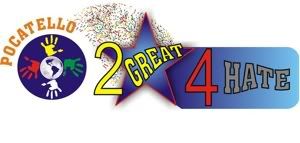 On Wednesday, May 9th, the Bannock County Democrats will be holding our May 2012 Political Soup lunch. We'll be serving up some yummy soup and bread between 11:30 am and 1:00 pm.
This event will be held at our headquarters, which are located at 355 Yellowstone Ave., across the street from Mama Inez restaurant.
Our speaker is Susan Matsuura from the local organization Too Great for Hate. She will speak about the purpose of the organization and the reasons it exists in our area. She will also speak about the ways we can each combat hate and end discrimination.
Political Soup is a great way to stay in touch with fellow Democrats in our area, as well as to pass around ideas and suggestions. Entrances are at the front and back of the building, with parking in back. We look forward to seeing you there! For more information about this event, please contact our organization at chairman@bannockdemocrats.org.