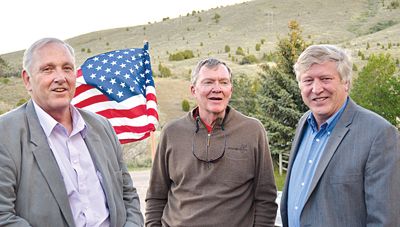 Pocatello, ID —
Those interested in supporting the re-election campaigns of Pocatello city councilmen Roger Bray and Gary Moore, as well as the campaign of Roger Chase for Mayor of Pocatello are invited to attend a fundraising event this Thursday, July 25th beginning at 6:30 PM. This event will take place at
2623 W. Old Highway 91
just outside Inkom, and is being hosted by Tom Nestor, Kevin Lish and L.D. Wolfley.
Hors d'oeuvres will be served. The event will be outdoors, so please bring a lawn chair or blanket. No children, please.
Catch up with old friends, meet new ones, speak with the candidates and hear about their plans to strengthen our community and keep Pocatello moving forward.
To RSVP or for more information please contact Tom Nestor at 234-0046 or James Ruchti at 251-4104.
What: Fundraising event for Pocatello Mayoral & City Council candidates, sponsored by Keep Pocatello Moving Forward
When: Thursday, July 25th, 2013 beginning at 6:30 PM
Contact: Tom Nestor at 234-0046 or James Ruchti at 251-4104