Roy Lacey
Office Address
District 29
State Capitol
Committees:
P.O. Box 83720
Finance
Boise, Idaho 83720-0081
Health & Welfare
(208) 332-1406
Transportation
rlacey@senate.idaho.gov
This was the predicted go home week at the beginning of the session. Such is not the case as a few items such as schools and transportation are still being considered as they have been since January. If all goes well it is possible we may be finished by April 3rd – surely not April 1st as the media would have a heyday with how this legislative session has bungled its way through the last three months. However, there are a few rumors going around that we will be held in session until we get a workable transportation funding bill.
I am extremely thankful and feel blessed that we begin each floor session with a prayer and the pledge of allegiance. This always gives my day a spark and reminds me why we are legislators.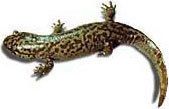 Idaho Giant Salamendar
We have finally successfully selected a State Amphibian, The Idaho Giant Salamander has finally been designated by legislation. Ilah Hickman began the quest to have the Idaho Giant Salamander named the official Idaho Amphibian when she was in the 4th grade. Now, approximately 5 years later, she has accomplished this task. Twice the House of Representatives turned her away, one time after a resounding approval by the Senate, but the young lady could not be discouraged and kept bringing her idea back. Kudos to her and her desire to accomplish a goal. She is a credit to Idaho's youth.
Last spring I mentioned that I had requested an audit on School Net wondering why we were putting $20 million into a program that did not work. We finally got the results of this study and learned that the State and Albertsons had put in $61 million into this failed attempt. The explanation was poor decisions, poor management and no accountability from the Executive branch of our government. The new Superintendent of Public Instruction has already begun dismantling this system and should be finished with this task by next year. This is just one more top down decision by the administration that was handled inappropriately. The legislature is trying to put some sideboards up to prevent such a waste from happening again. Still, there is no accountability and no one is being charged or even warned regarding this total lack of supervision.
The Senate has overwhelmingly approved the use of cannabidiol oil for the treatment of children suffering from epileptic seizures. While this oil is extracted from marijuana, it contains only trace amounts of TCB and has been shown to either stop or slow down the seizures in children. This legislation has moved to the House for hopefully the same result. We cannot let our children suffer.
We also have a couple Federal Lands bills floating around. One which I can support simply asks that the Federal Government and the State of Idaho work together to maximize the use of the land and maintain access for the public. We are already doing this through our Department of Lands. The other is a mess and wants Idaho to join a coalition of states (not yet really identified) to fight to take over Federal lands. This last measure is unattainable and surely would just cost a lot of money and get no results.
Just today we are hearing rumbles about a fairly decent transportation funding bill. I can support all of the components that are listed as it spreads the "pain" of securing new funds into several areas that make sense. This bill is being held in committee as some"preferred" ideas are being floated around. All of those floating have impact on the General Fund and will compete directly with schools for funding – not a sustainable idea.
We have finalized the schools budget and I believe it is a good one. This has been a process that has taken about 8 weeks and this budget has been adjusted many times as new legislation or anticipated legislation was being discussed. The new career ladder was developed by consensus and adds more than $33 million into teacher salaries and more has been allocated to technology and also to operational funds. The total increase was 7.4% in general funds and more than 8% overall. The total is more than $1.8 billion – and while the amount is about what was funded in 2009, it does not allow for inflation, but we did our best given what we had to work with.
There was a recent headline that said "Secrecy Reigns in Idaho" and went on to discuss the failed and botched contracts, lack of transparency, the Department of Justice investigations into both the IEN and the private prison. Additionally, the new Superintendent of Public Instruction has found more than 1500 contracts that the previous Superintendent had let in the Education Department. Who knew. I sincerely hope that you will feel the transparency that I am attempting with these weekly newsletters. Even at that, I am only scratching the surface as so much goes on, but I feel that the tolerance for reading is only so much. I try to talk about the most important items each week.
I sort of hope that this is my last weekly update for the year as the last week will be consumed preparing an end of session recap letter. In any event, keep up the contact rlacey@senate.idaho.gov or 208-332-1406